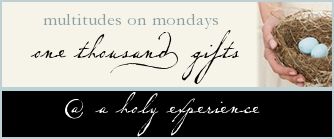 403. Little girls with big smiles.
404. Living in the real world.
405. Knowing the teamwork of compassion.
406. Being right in the middle of things.
407. Not knowing what the next day will hold.
408. Finding grace everywhere.
409. Being constantly under the shadow of the Almighty.
410. Finding joy outside of the rat race of the world.
411. Seeing compassion chip away at crusts of hatred.